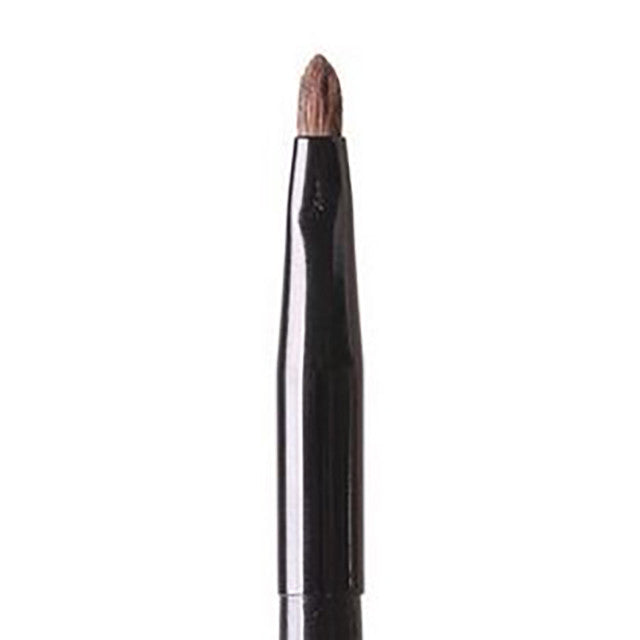 Smudger/Liner Brush
Skone Cosmetics
Create sexy, smoldering eyes in seconds with this multipurpose brush. Use it to line, smudge or blend eye pencils or powder eye shadow. You'll be amazed how many ways you can use this brush. Made from pony hair.

Best for:
The Smudger/Liner Brush is best for creating that sexy, smokey look.

Usage:
Precisely cut with a contoured cone shape specifically designed to create the perfect smokey eye.

Technique:
Use the tip of the brush for a classic thin line or apply pressure to smudge along the lash line. Build color and smoke out the eye with the side of the brush

What You Can Expect:
Subtle smokey look for day or go super smokey for a night on the town! Use with Skone shadows and liners!

We accept the following credit cards: Visa, MasterCard, American Express and Discovery. Our site is fully secure and you can be confident that using your credit card on our website is 100% safe and secure.

We accept PayPal payments. PayPal is the most popular payment processing company, our website ensures that all transactions through PayPal are 100% safe and secure.
*The purchasers and/or users of any medical products and supplies offered for sale on this website shall, to the fullest extent allowed by law, indemnify, hold harmless, and defend Skone Cosmetics, LLC, as well as its owners, members, officers, agents, suppliers, and affiliates with respect to any claims, losses, or damages arising out of or resulting from the use of any of the medical products and supplies. | All medical supplies are final sale. No returns or refunds. | At Skone Cosmetics all cosmetics and makeup tool sales are never final. If you would like to return any of our products, you have 60 days after the date of purchase for a full refund. However, all shipping and handling charges are non-refundable. Should you have questions, email us at support@skonecosmetics.com or call Customer Service at 973-927-5663.