Eyeliner hacks for each eye shape.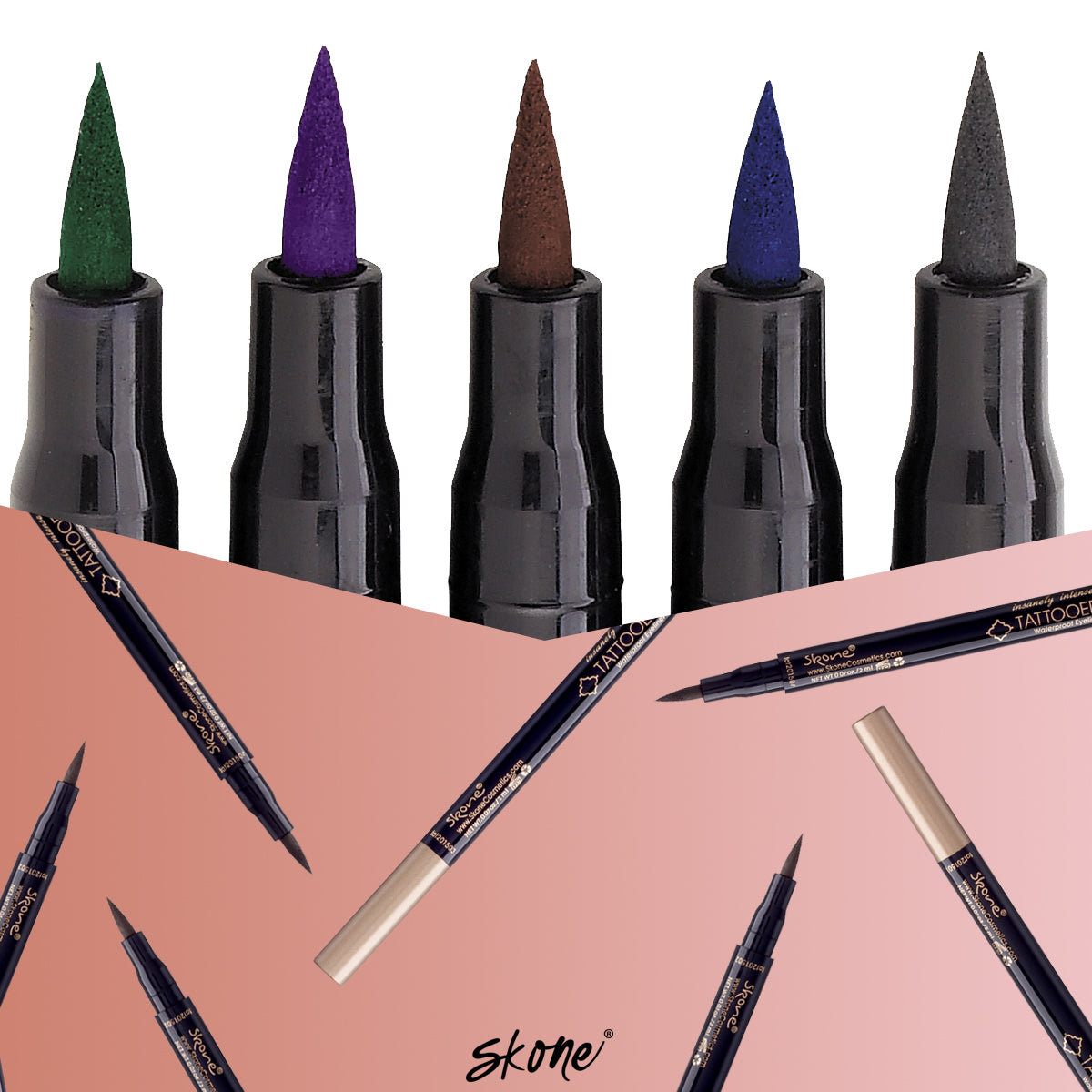 Whether you call it a wing or a cat eye, this sleek and sophisticated makeup style has stood the test of time. Thousands of makeup artists and YouTube personalities have uploaded tutorials on how to get your wing just right. For some women, no matter how they hold their liner, flick their wrist, or sharpen up the look with eye shadow brushes, the wing may still not turn out exactly as planned. The problem may not be artistic talent or skill, but rather your eyes may be a different shape than the model in the tutorial. Here is a definitive list of how to create the perfect winged eyeliner for your particular eye shape.
Upturned eyes
Apply a thin line of eyeliner with your Insanely Intense Tattooed Liner on your top lid while winging it slightly. Next, apply a thicker amount of Tattooed Solid liner on the bottom lash line under your eyes. This will give your eye shape a more rounded look.
Monolid eyes
Those who have monolids need to create a thicker wing than most. First, you want to line your top lid with a line that is thin to medium thickness with your Insanely Intense Tattooed Liner. Next create a pronounced wing shape above the first line and fill the gap in between. Play around with different styles and thickness, because even the slightest difference in liner weight can produce drastic differences in the wing style. To enhance the winged look it would be best to create a smokey eye to round out the look. Our 6 piece Luxe Pro Makeup Brush Set is perfect for creating a smoldering, sexy look.      
Almond eyes
If you have this eye shape try applying an even amount of liner on both the top and bottom of your eye, then add a wing to the top line. Since your eyes are already rounded, there is no need to augment the top or bottom lash lines.
Downturned eyes
Line the top of your lid with Insanely Intense Tattooed Liner so that the outer corners of your eyes are much thicker. Once you've done that, wing out the liner past your eye's width.  Next, apply a small amount of liner with your Tattooed Solid pencil on the bottom outer corner.  An optional second step is to contour the top lid with a lighter shadow shade. This will create the illusion that your eye is lifted and round.
No matter what eye shape you have, you can achieve the perfect winged liner with practice and the right tools.
Be sure to tag your selfies with #SkoneGirl for a chance to be featured on our social media.