Brush vs. Blender: What is the best makeup tool for you?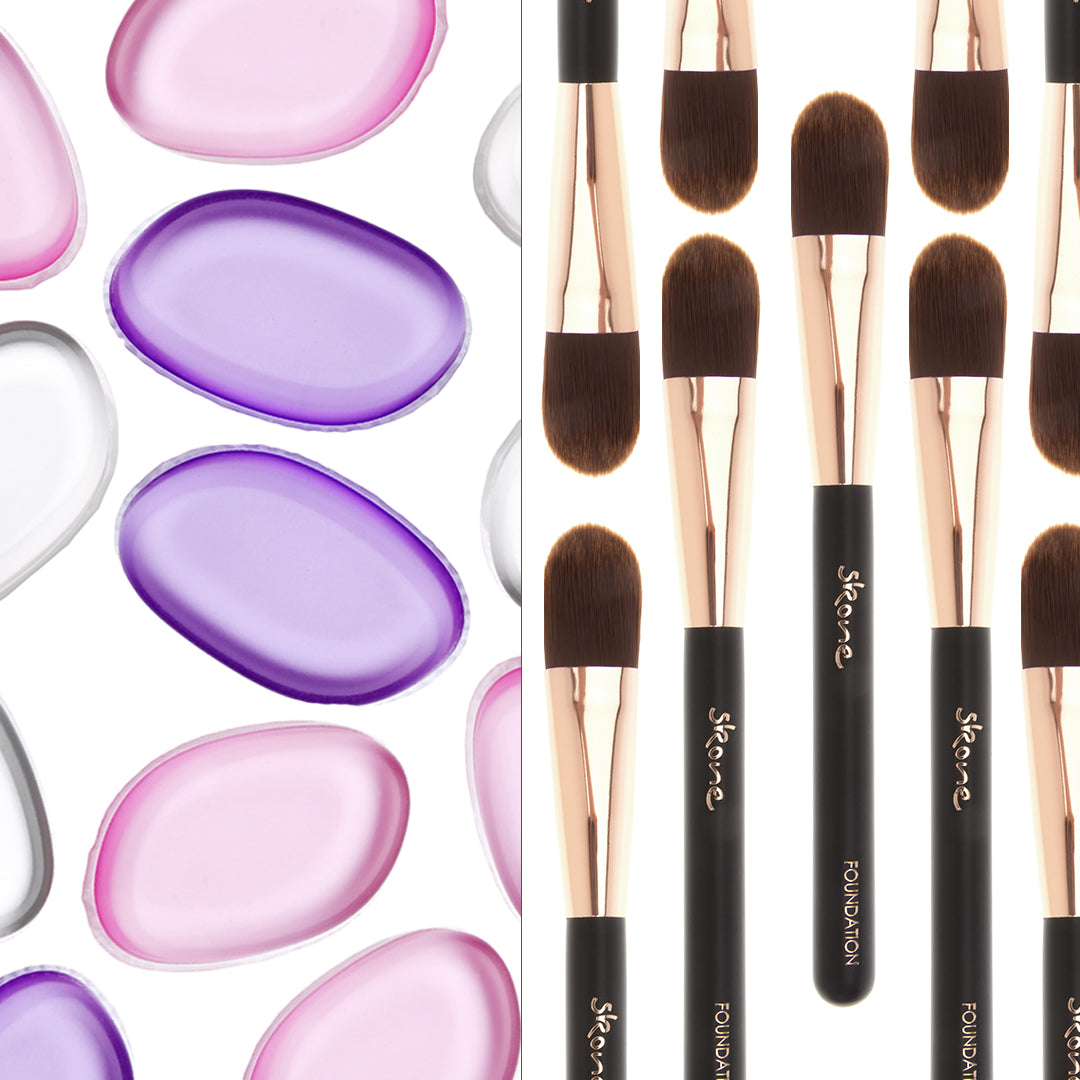 Beauty sponges are among the most popular products in the makeup world today, which is why we added our own Silicone Beauty Blender to our product line. They are easy to handle and can be used to apply different products like liquid foundation, concealer, and even skincare products. In last week's article, we discussed all the great reasons to pick up a silicone blender. However, some might still prefer to use brushes, and there are big differences between silicone blenders and your standard makeup brush. Which product wins? Read on for quick comparisons so you can make a decision for yourself.
Coverage
Silicone beauty blenders provide consistent coverage when used correctly. The key to using this blender is to start with a minimum amount of product. It takes practice, and there is a bit of a learning curve, so this tool is for the more patient makeup lover. You will notice that if you use too much liquid makeup at the outset it is likely too late to fix. The blender can give the appearance of makeup "sitting" on top of the skin and an inconsistent, thick texture.  Once you get the hang of it though, the blender will create a look that's full coverage and smooth.
Although makeup brushes use more product than a silicone blender, brushes create flawless texture every time and can create a sheer, buildable, or full coverage depending on your preference. Consider our Luxe Pro Foundation brush as the first product to try.
Maintenance
Routine brush maintenance is key to the life of your makeup tools as well as an important step in your skin care routine. Over time dirty makeup tools can have excess makeup buildup that will not only impact the integrity of your tools but might even make your skin break out.
Silicone blenders are the easiest to clean. Some simple soap and water with a wash cloth will make it look like new again! With its non-porous texture, you don't have to worry about leftover makeup residue sitting in the blender.
Routine cleaning of either product will extend the life of the makeup tools.
Team Blender: how to use a Silicone Beauty Blender
Use a much smaller amount than you normally would with a brush or other makeup tool. Gently dab the bit of product on your skin to match your desired level of coverage. To blend out smaller areas like the inner corners of your eyes use one of the smooth edges.
Team Brush: how to use a Luxe Pro Foundation brush
Using a foundation brush is simple. First pour a small amount of foundation onto a flat surface like the back of your hand. Better to use a little product each time and see how far that will take you as opposed to pouring out a lot of product. Then start applying your foundation in the center of your face and blend outwards with large downward strokes. Once dried, if there are any noticeable foundation lines use your brush again in a gentle circular motion to buff them out.
Whether you choose brush or blender, Skone has you covered! Pick up a Luxe Pro Foundation brush or Silicone Beauty Blender in our online store today.
We love featuring talented makeup artists and enthusiasts on our social media pages, so for your best chance to be featured be sure to tag your makeup selfies with #SkoneGirl.