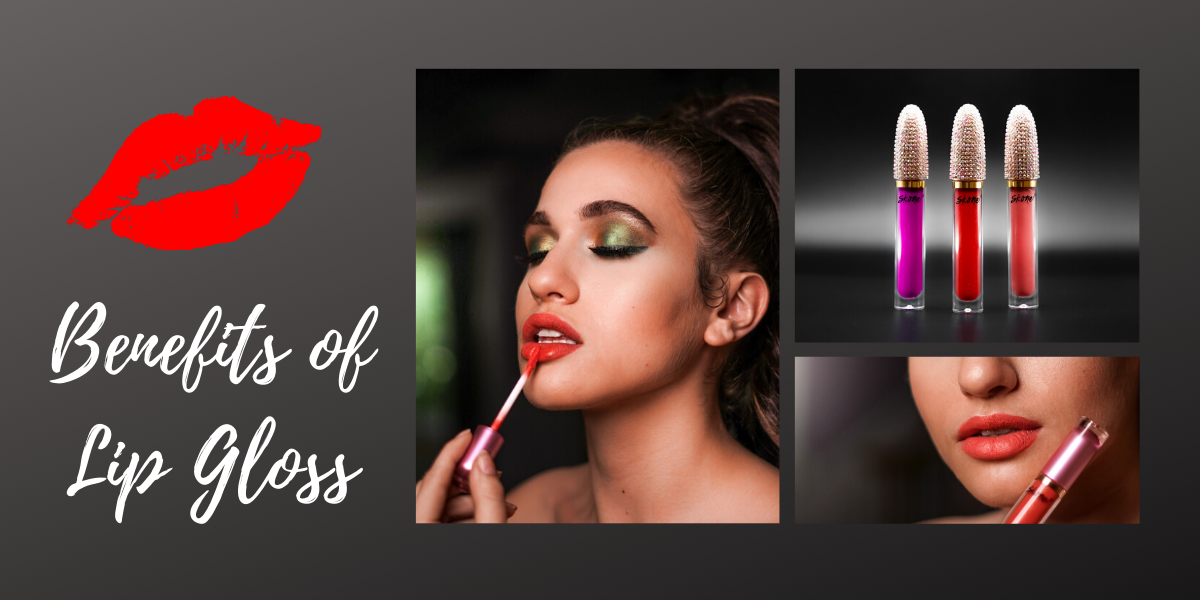 Beauty products and cosmetics are every girl's best friend because it doesn't just enhance their features but also may help them boost their confidence and look glamorous. And undoubtedly, a lip gloss can be that secret weapon.
Skone Cosmetics makes products that last and compliment all skin tones.
With more product inside and better value. It's makeup essentials done right.
Just for you, save 20% off you entire purchase! Use code "TrySkone20".
Glosses come in an array of finishes, such as shiny or matte, nude or color, and in liquid form or as a cream. The Skone Luxe Lip Glosses are six bold matte colors that are universally flattering to all skin tones. Glosses attract the eye to the lips immediately. When lips have color on them, they appear to be more fuller and eye-catching. A matte finish gives the look of sophistication and flaunts a shade of illustrious color. There are not many matte glosses that gives a bold blunt finish as the Skone Lip gloss. It's rich in color, it's bold, it's vegan, its rich in vitamin E and has avocado oil. All the good things to keep your lips looking fantastic and moisturized at the same time. 
Benefits of Lip Gloss

Always make sure to wear a gloss that is beneficial to your lips that provide not only color, if you want color, but moisture is very important for healthy looking lips.
The Skone Luxe Lip Gloss Collection's innovative formula provides moisturization and revitalization for up to 12 hours. Quenched lips automatically exfoliates every 24 hours if they've been moisturized. However, thirsty lips appear dry and cracked. Adding a hydrating gloss to your daily routine will prevent your lips from appearing dull and flaky.
Exfoliation keeps lips looking hydrated, smooth, and soft. Skone's Luxe Lip Glosses provide both the color you want and the benefits of a moisturized formula.  Infused with oils and vitamins, these glosses gives not only a bold tint to the lips but conditions them and prevent them from drying due to weather conditions, such as extreme cold air or excessive dry heat. 
The Skone Lip glosses are known as the "Girlfriend Collection" because each shade is adorned with sexy exotic girl names. 
Kaia, Juju, Amala, Daesha, Julexa, and Curlina
These beauties are vegan and paraben-free. The advanced formula, is infused with vitamin E and avocado oils that are lightweight, easy to apply, non-drying and long-lasting. 
Skone's vibrant lip glosses always compliment a little black dress for that always party-ready look.

These glosses come in six electrifying  colors that are laden with a soft scent. The creamy formula will have your lips highly moisturized and feeling supple throughout the day.  

The catchiest advantage of wearing lip gloss is that you can wear it alone, with a colored lip liner, or with your favorite lipstick. 


Why Skone Lip Gloss?

Lip glosses are a liquid pop of color. Known to bring a brightness to the face and vibrancy to any makeup look. Totally buildable and can be blended with a lipstick. Some glosses have a shine and some come in a matte. Skone glosses are distinct matte colors. They're bright and bold that also have the look of a lipstick and has an arched felt tip for precise application. 
Lip glosses are so versatile, you can wear them without makeup, or wear with your daily routine look, and even goes perfectly with a smoky eye look. YouTubers these days are trending their "lip gloss makeup look" showcasing glosses that are the essential product in your beauty routine. 
Home of the Insanely Intense Tattooed Eyeliner™ and Brow Wand™

skonecosmetics.com   
Unleash Your Gorgeous!
JUST FOR YOU: SAVE 20% OFF YOUR FIRST ORDER! USE CODE "TrySkone20".