Add to cart: five Skone products you NEED to try out next!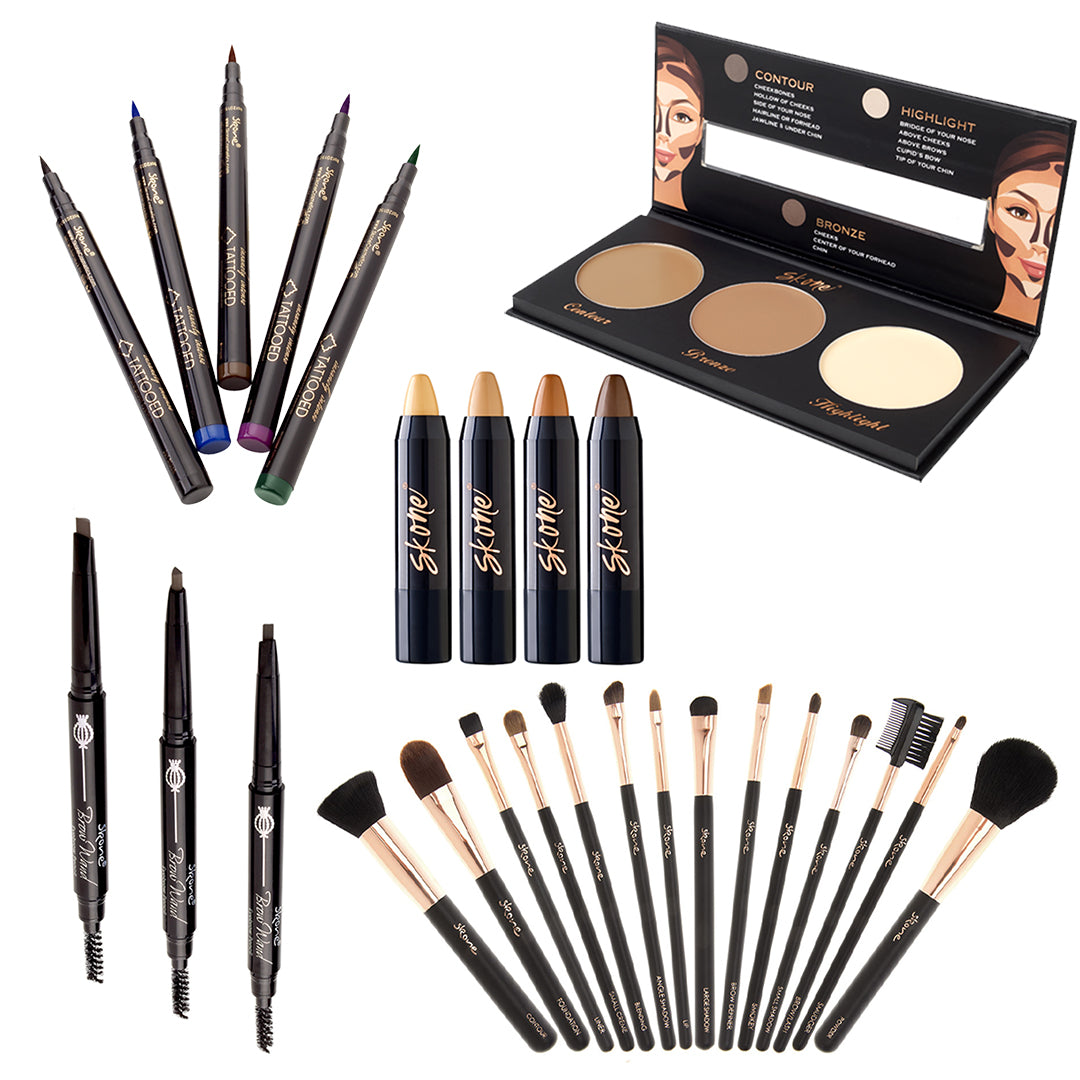 However you discovered Skone Cosmetics, it's likely that you've come to love one product in particular - that one killer, Holy Grail level product you can't just live without. For many it's our Insanely Intense Tattooed Eyeliner. Whatever your favorite product is, now is the time to try new ones and expand your love of Skone products! Here are five examples of what you might really love from our store, and what to try out next.
If you really like your Insanely Intense Tattooed Eyeliner…
…and you've tried all of the amazingly pigmented shades in the collection, the Tattooed Solid Pencil should be next on your list.
This pencil has a soft and moisture-rich feel without the worry of smudging or running. It's best used for lower lashlines, waterline, or tightlining applications. Tightlining especially will make your upper lashline thicker and enhance any look you create with your Insanely Intense Tattooed Eyeliner.
If you really like your Luxe Pro Large Shadow brush…
You will love the Luxe Pro Blending brush!
When the Large Shadow brush is your go-to tool for packing on pigments, the Blending brush can softly fuse those eyeshadows with ease. Each Blending brush has a fluffy, rounded head that is made of nylon hairs, which makes it a perfect vegan brush option for socially conscious beauty consumers.
If you really like your Luxe Pro Contour brush…
Complete the Contour collection with our Sculpt & Slay Crème Contour Kit.
This all-in-one crème contour kit comes with three universally flattering shades to bronze, contour, and highlight. Not sure how to contour? It helps to know your face shape which will help you map out where to apply which product. Once you get the hang of it,  creating a sleek, chiseled look you want is a breeze.
If you really like your Brow Wand…
Try out the Luxe Pro Small Crème brush and Mini Concealer Sticks for the brow clean up step!
Applying concealer around your brows after using your Brow Wand will brighten up your brow bone area and clean up any stray pencil marks you might have missed. The Mini Concealer Sticks have a creamy, supple texture that won't look heavy or crease on your brow bone area, and the Small Crème brush can softly blend the color out and reach the hard to reach areas.
If you really like your Luxe Pro Blending brush…
You'll really enjoy our 6-piece Luxe Pro brush set.
The set includes the Large Shadow, Small Shadow, Angle Shadow, Smokey, Lip and Brow Definer brushes. This comprehensive grouping will allow you to create a complete look from Brows to Lips. Many makeup lovers prefer a few great brush options so that there's fewer brushes to take care of, and this set covers most of the basic, must-have brushes you need. Paired with your Blending brush, your shadow application will be flawless!
What's the first Skone product you fell in love with? Let us know, we'd love to hear from you!
Be sure to tag your selfies with #SkoneGirl for a chance to be featured on our social media.